Featured National Parks Sponsors
National Park News
Sign up to receive breaking National Parks
vacation deals as well as receive other site updates!
Recent National Parks Articles
Glacier Park Motel and Campground
Location: * The Glacier Park Motel and Campground Is Located In Columbia Falls,...
Yellowstone Park North Travelodge
Location: * The Yellowstone Park North Travelodge Is Located In Gardiner, Mont. *...
Travelodge Hurricane Zion National Park Area
Travelodge Hurricane Zion National Park Area Is Located In Downtown Hurricane,...
Days Inn Moab
The Famous Red Rock Formations Of Southeastern Utah Provide A Geographic Framework...
Read More National Parks Articles Here...
Featured National Parks Hotels
Glacier National Park
Glacier National Park, known to Native Americans as the "Shining Mountains" and the "Backbone of the World", is located along the spine of the Rocky Mountains in the NW corner of Montana.  Glacier offers you alpine meadows, rugged mountains, pristine forests and spectacular lakes.  You will find more than 700 miles of trails... [Read more of this review]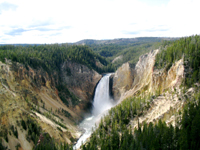 Yellowstone National Park
You can explore some of the interesting and strangest geological features in Yellowstone National Park. The huge volcanic base is the remains of a massive volcano that erupted many millions of  years ago. This is one of the places where you can see hot water and steam bubbling, hissing and gurgling as it explodes out of the earth.  It is possible... [Read more of this review]
Zion National Park
Zion National Park is located in southwestern Utah, 309 miles south of Salt Lake City, and 43 miles northeast of St. George. Most of the visitors prefer to enter in this park through the south entrance next to the town of Springdale. Private motor vehicles are strictly prohibited in Zion canyon, shuttle bus service is there to serve you. Zion National... [Read more of this review]
Arches National Park
The Arches National Park is a famous red sandstone area with huge profusion. You can get a location map of the Arches National Park from the visitor center, containing all sizes of the park structures ranging from the 89 meter huge Arch to the smaller openings like one meter wide. It is possible to see many more outstanding rock structures sprinkled... [Read more of this review]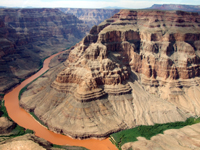 Grand Canyon National Park
The Grand Canyon Nation Park located in Arizona is one of the world's natural wonders and one of America's top tourist attractions attracting nearly 5 million visitors a year. It is considered as one of the greatest natural wonders of the world. You can simply take a breath taking view of the steep sided gorge, take a biking or hiking trip... [Read more of this review]
Find More National Parks Here...